Is StableHost the best website host for you in 2019? I've tried many different web hosts and StableHost is one of the few rare hosts who offer great services for affordable rates.
We can't really find any proper fault with StableHost. They're a good company that are more a jack of all trades than master of one – The is server speed is good, hosting is good, support is good and pricing is fair.
They offer high-quality web hosting at a budget. None of its features are truly at the top of it's game, but combined, they're a very solid choice of a host.That, topped off with there uptime and security record, is why they're on our top 10 most recommended host list and why we've award them a 4 star rating – Which is higher than you may realize. We've also managed to secure an exclusive discount for all our readers, to sweeten the deal even more!​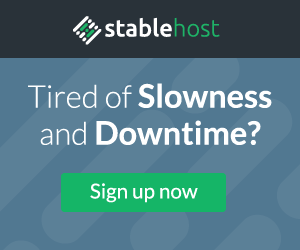 Detailed review of StableHost Hosting 2019
StableHost were one of the first providers on the market to completely upgrade there servers to SSD.
This was what caused them to have a leap of re-resurgence in 2016​ with great priced, SSD shared and dedicated options to choose from.
They've also got 3 international options to choose where your server is hosted, and an awesome support team to help you with any problems you may run into – Available via phone, live chat and ticket system.​ They claim to be hosting just over 30,000 domains and rents some server space form SingleHop.
​Oh yeah, we hooked up a massive 40% Off discount for you our readers. To take advantage just scroll down the page to get the Stablehost 40% off coupon.
Here is a little background on StableHost before we proc​eed with this review. 2009 was the go-live date for StableHost, they had a simple vision of providing affordable quality hosting services. Not a lot has changed in that regard, they still provide affordable pricing plans and quality hosting services.
Also related: read our Bluehost Web Hosting review.
Speed
Decent server performance, especially for the price. Not for very heavy sites.
Uptime
Downtimes are rare, and usually don't last long. Good enough for most sites.
Support
Lots of readily available answers in knowledge base, but support is slow at times.
Price
Prices are low at first, but renewals are expensive. No monthly payment option.
What is affordable hosting?
StableHost has a minimum plan that starts at $3.50 per month which is considered affordable and allows the company to operate. Please be very cautious of any hosting offer for $1.00 monthly, that company wont be around in next year.​ Affordable website hosting should at the minimum have a control panel access and basic setup features.
I decided to request some help migrating some of my sandbox websites onto the new hosting subscription. StableHost support was very helpful and made the migration very easy. I tried this with HostGator when I purchased some hobby websites and I was let down big time. The best part and why I thought it important to mention was, not only did the domains get moved but my connected email accounts​ and settings. Very helpful with the entire process.
StableHost does provide blazing fast page load times. ​There are some drawbacks and that is for the larger websites that require more resources. The limitations can be more of an annoyance than a deal breaker depending on your desired goals. Your concurrent MySQL connections will max out at 10, great for small websites but below par for larger websites. This will limit the amount of live traffic you can have on your website at one time, this is low and if they changed this it would be a bonus for customers.
Before becoming a paying customer I decided to take a second opinion and check out what people say about StableHost as a service provider. I must have looked over 20 reviews about the company and 19 were positive statements. The reviews came from fashion bloggers to medium sized business owners all stating how happy they were with the service provided. ​I didn't need to look to far into it and was satisfied that the service was solid.
While these benefits are definitely big ones to consider if you're on a budget, or if you're looking for a company that cares (their datacenters are green friendly), as hosting nerds we are also concerned with the technical specifications of a host, and therefore the performance they can offer.
Speed
On WordPress & speed optimization specialty hosts like WPEngine, SiteGround and A2 Hosting.. We'd normally get load times for this site of around 1 second. We were pleasantly surprised when we tested it on StableHost's servers and got a load time of under 2 seconds.
hat is actually an extremely impressive load time for a service that cost us under $5 a month.
​When I first came across StableHost I was skeptical of the unlimited claim, the low entry price and host of features provided per subscription. I stand corrected this company is a very reliable provider of hosting services. I judged the book by the cover, having used StableHost now Im a fan they make the entire hosting process easy.
Reliability
A lot of the reliability comes down to the datacenters. It's all about location, hardware and software. Their are a couple of minor things we would like improving but all in all, StableHost do a good job.
Unfortunately, StableHost have not (yet, at least) got a location in Asia. This means anyone that's looking to host a site targeting that market should likely look somewhere else – Either SiteGround or A2 Hosting.
That being said they do have 2 options for North America, and a data center in Europe:
Phoenix, Arizona (North America)
Chicago, Illinois (North America)
Amsterdam, Netherlands (Europe)
For anyone looking to make a site targeting the western market, you'll be fine selecting any one of the 3 options. There is enough coverage between them to power your machine.
Customer Support
Multi-level support system, that runs 24 hours a day, 7 days a week. Considering their customers come from all over the globe, having a available at all times support desk is a smart move. They have several ways of assisting you with any technical problems as outlined below.
The average reply time I got to a live chat or ticket was well under 10 minutes, I had more easily solved questions completed in one or two exchanges and the more technical problem questions were resolved in 4 and 5 exchanges. I was only transferred to someone else once and that was more for technical requests. Having customer support average response time of 15 minutes is way above industry standards and very impressive. Using a ticket system for customer support I am still impressed.
Considering how many hours i have spent waiting on hosting companies chats, I felt that this was a very positive experience. The chat operator was helpful and was able to direct me to the most relevant resources for fixing my problem.
They also have phone support (which is again, not an industry norm) available for those who want to physically talk to someone rather than bashing away on a keyboard to a nameless screen ID. The people on the other end of the phone have been helpful, providing verbal help and referring the aligning support document.
Own a website and hosting with another provider? no sweat StableHost can assist with the migration process. If you are not technical and unsure how to performa website migration, just ask customer support for assistance.​
The inclusion of video tutorials is a great addition, the YouTube channel is full of helpful playlists. These video tutorials help cover beginner to advanced problem solving, you can work alongside the videos while working on the problem. Don't like chat and don't have time to be on the phone, this is your problem resolver, watch the videos and fix the problem.​
StableHost Hosting: Other things to know
Really fast page load speed and great customer support.
We've done a cross-comparison analysis of StableHost Hosting's performance benchmarks vs the benchmarks of several other hosts in their bracket.
LEVEL 1
VZ GB1
For people who recently outgrew shared hosting
You could go the shared hosting route which is a little cheaper but why would you when this starter package is only just a touch more expensive but you get so much more performance for your money. The perfect balance.
LEVEL 2
VZ GB 2
For a busy blog or medium sized forum
If you have a busy blog or a good sized forum you need a little more performance in your hosting package. The VZ GB 2 offers that balance between extra quality but at a reasonable price making it one of their more popular packages.
LEVEL 3
VZ GB4
For large websites or game servers such as MineCraft.
If you have a really popular website or even a gamer server or forum then you're going to need this monster. The extra RAM and hard drive is going to maintain that super fast page load speed to really help with conversion rates.
What Hosting plans do you offer?
There are a bunch of different hosting plans you can take advantage of with StableHost.
Shared:
The shared hosting for StableHost offers a competitive price point, advertised simply as 'web hosting' you'll soon see on their site that this plan offers you unlimited premium bandwidth, along with their main competitive edge. SSD's. Solid-state drives are obviously a lot faster than HDD (Hard Drive Disks). While most decent hosts offer this now, a lot of the better known hosting companies actually don't. So if you're looking for a speedy shared hosting plan, StableHost are a good bet for the money.
Enterprise:
​Enterprise hosting platinum by StableHost is just damn impressive, this is what I've been testing recently and not only is the support a lot better than what you'll get on the shared plans, but it's not a huge price jump if you're running a site that's making over a hundred bucks a month.
Since the enterprise hosting offers unlimited add-on domains, the advantages of SSD' and up to 2GB/s DDoS protection, this package really is perfect for sites / businesses that are getting lots of traffic. It's also great in niches where your competitors are playing slightly dirty in terms of tactics.
They'll even repair your site for you if it get's hacked, presumably from backups they do on their end, but surely offering some kind of security solution to fix the vulnerability as well.
All in all this is the best offering from StableHost in my view, while the servers aren't dedicated they have 400% less sites on each server, and 100% less downtime.
Who would I recommend this site for other than high earning affiliate marketers? Well I think it's the perfect solution for smaller ecommerce businesses that need a reliable host that doesn't break the bank.​
Reseller:
If you're a reseller you'll be pleased to know that you're not going to be spending hundreds of dollars a month with the StableHost Hosting packages for reselling.
I might add, it's quite pleasant that they're actually giving you the same hardware prowess that you can get on their shared & shared enterprise servers.​
VPS Hosting:
StableHost offer 3 different packages for their VPS Hosting…
VZ 1GB, VZ 2GB and VZ 4GB.
Honestly, you'd be better off giving the 1GB option a miss as it's simply not got enough power there to justify switching from a shared plan with StableHost, but the 2GB and 4GB options are both excellent if you're running growing blogs / content sites.
The 2GB option boasts 2 CPU Cores, 2048 MB RAM (Hence 2GB) and 60 GB of Disk Space. If you're compressing and minimizing images and other files, 60 GB is actually rather a lot!
VZ 4GB is far more powerful, and is the sort of hosting you'd want for a site that's doing hundreds of unique visitors per day that's still growing.
It offers an increased amount of storage 60 GB > 100 GB, along with 4 GB of RAM and a quad-core processor. It's a powerful option that'll give you a lot of speed, which is important if you're having a lot of traffic come through the site or if the quality of your traffic is very targeted and commercially important.
Why are guarantees important? Because they are a trust signal. Any hosting willing to put their money where their mouth is and offer some kind of guarantee is worth your attention. 30 days is good standard, and gives you time to experience the hosting, and 90 days (like the option on the business package, is excellent)​
People and Staff
Keeping the team small and like family, this I like no "super brands" run by corporations that control the economy. Running around 10 people who are invested in the product beats ten thousand semi automated call centre support staff every day. Customer service has a real family feel to it, you are considered part of the family when signing up.
Support is the biggest factor when it comes to choosing a web hosting provider. There's thousands of providers out there, how do you know which one is for you? We only hire the best, people who love their job and love helping you get your website up and running.
Hardware
"We run the industry standard control panels for web and VPS hosting. We do this for various reasons but we want to make it easy on you, our customer, to manage their website and not have to re-learn a control panel when you switch to us".
Running top of the line hardware StableHost will nerd out on you with the specs. The minimum entry they run is 32GB of RAM, SSD drives, Dual E5 CPUs and RAID-10, this is some very decent hardware. They don't scrimp on the finer details​ so you can enjoy the premium performance
Growth
StableHost is a privately owned business and since day one (2009), they have been on a consistent growth ever since. They claim that their business model involves them putting profits back into the business, in order to fund growth and with no known debts its smart business.
They use this revenue to include and add on extra features and functions, further helping their customers get the most of out their host!
Does Stablehost off an uptime guarantee?
Yes, they have an uptime of 99.99%, which is inline with the hosting industry standard. If they fall below that mark, they offer a full month's credit on your account!
What are the technical specifications?
The SSD based servers run on LightSpeed with CloudLinux – SSDs are not only a lot quicker than your standard HDD host in terms of read/write, but with the mixture of PHP caching, LightSpeed & CloudLinux, you're looking at massively increase load times and process executions.
The only annoying thing is StableHost does have a bandwidth cap for the smaller accounts, and also has a 10 MySQL concurrent connections limit which will vastly slow down sites like forums and large online stores.. Though if you're running a small to medium blog or E-Commerce store, you should be fine. They state that the service can comfortably take up to 210,000 website visitors per month, if that is not enough you can upgrade your plan. The Enter-prize plan can take enormous amounts of web traffic, use this if you have over the above amount of website visitors.
StableHost has a guarantee of 99.9% Uptime, from our monitoring they provide 99.8% consistently. ​The standard arrangement applies that when the host can not maintain the guarantee, there is a credit of 1 month applied as compensation. The onus is on the website owner to maintain a watch, as there is currently no where on the StableHost to pull the uptime statistics. Up time and the level of their service and support has been very consistent.
I'm impressed with that result and considering my website is on a shared hosting account its above average.​
What other features do StableHost offer?
offer high-quality web hosting at a budgetNothing out of the ordinary here I think the real power is coming from the performance of the service. You can get an idea of how effective the power is by regularly recording the speed and downtime of your website, doing this each week at a set time can provide you with a true value of service.
This is not a HostGator review but I recently started to record the performance of a sandbox website I'm hosting with HostGator. The monitoring of the website provided me an accurate summary of why I don't use budget hosting for my money making websites. In five weeks the website has been down for more than an 45 minutes, it is the bottom level plan and I don't expect a 99.9% Uptime guarantee but that is not a good sign.
Hosting solutions offered by StableHost include shared and VPS hosting. They also offer reseller host accounts. The focus is on providing a quality service for small to medium websites. ​
Another positive about StableHost is that they do invest in their business and improve​ the assets. This in the long run is great for all paying customers as they improve server tech and provide a faster better service.
The immediate benefits of using StableHost:
Aside from the industry-standard cPanel security in place, StableHost have made a serious effort to protect there users data.
Coming default with any of there services, you'll get R1Soft Daily Backups (for free – normally a paid solution), built in spam protection from spam experts, customisable firewall settings and default mod_security firewalls built into the servers.
​Take your server security serious, Just last night I saw a well known marketing agency site hacked. The post seemed like a scheduled post, on arrival to the page it was taken over with a religious message and some naughty words. The article is now live and the tracks covered, but my point is take a second to consider the security of your website and more importantly your hosting accounts.
CHECK LATEST STABLEHOST PRICES
Automated Backups
​Automated scheduled backups are not included, this is included on the VPS hosting plan. The VPS backup includes up to 14 days of backups, the fine print is that there are no CPanel backups. Always read the fine print, check your pricing terms of service and the length of the subscription.
What are the prices and subscriptions?
All of the StableHost plans come with generous amounts of memory to run anything you can throw at it, well thats what the sales page tells us. I think they mean we can take anything you can throw at us within reason.
The difference between the Starter and Pro plans is the amount of domains that you can host, obviously Pro allows for more domains to be used and sub domains. Picking starter plan now wont limit you at a later date, should you want to add more domains to your network.​ StableHost has made the upgrade process a simple dashboard navigation, follow the prompts and complete the upgrade purchase to enjoy more domains.
As Google moves towards secure browsing you may want to consider adding SSL you can purchase SSH or dedicated IP addresses. The extra features come at a small cost but are very helpful if you are needing to collect information about your customers or take payments on your website.
A money back guarantee is a safety net. StableHost offers a 45 day money back guarantee, you have nothing to loose. ​
Do they lock you into a contract? No surprisingly they ​offer monthly plans. To quote "we will never lock you into any contracts". Once you have completed the payment process, you should have access to your dashboard almost immediately. I went to the knowledge base and typed into the search bar "subscription period" the page crashed, I typed it again and another crash I incognito browser repeated the process and crash.
Conclusion
"If you love a little bit of the personal touch then you could do a lot worse than StableHost!"
It's annoying that the start of this post summed up the entirety of it so well. StableHost really are a jack of all trades, with every angle covered. If you're looking for a solid host with a good track record & reputation, that won't break the bank – Then you've found it right here. I was super impressed on many levels dealing with the support staff and just how helpful everyone I contact really was.
40% OFF StableHost Coupon Code
AFF40SH
Gives 40% OFF on any hosting plan – first invoice (on any billing term).
We've managed to secure you guys an amazing, exclusive 40% off coupon code for you to signup under ANY of the packages StableHost has to offer. At checkout, simply enter our StableHost coupon code: